For novice golfers, selecting the right golf ball can be overwhelming. If you find yourself in this situation, you're not alone. As a beginner, I also struggled with choosing the best golf ball and mistakenly believed that popular golf balls would improve my game. However, I quickly learned that finding the best golf ball requires considering various factors such as price, quality, and more. With that in mind, we've compiled a list of the top 12 golf balls for beginners like you to help you make an informed decision.
Our Top Picks
Here are our top selections for those seeking a prompt recommendation.
You can also check out Callaway Supersoft golf ball detailed review.
You can also check out Bridgestone e6 golf ball detailed review.
12 Best Golf Balls For Beginners
1. Callaway Supersoft Golf Balls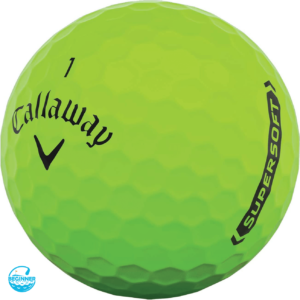 Material: Rubber Color: Green
If you're looking for quality golf balls, Callaway supersoft golf balls are an excellent option that won't disappoint.
These golf balls have been the most popular choice among golfers for the past few years due to their soft compression core, which maximizes energy transfer for increased ball speed and higher launch with low spin. The soft rubbery outer shell also provides a soft feel both in the hands and off the clubface.
However, the softcover may be more prone to dirt and smudges than other golf balls, but it has a pleasing sound when chipping around the greens. Additionally, each ball is numbered from 1-4, making it easier to identify your ball and keep track of when it's time to purchase more.
Overall, Callaway Supersoft golf balls are a reliable and quality choice for any golfer looking to improve their game.
2. Bridgestone e6 Golf Balls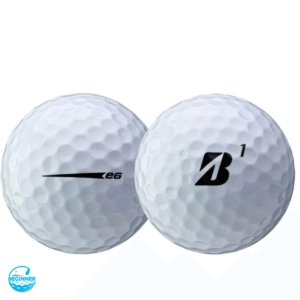 This item is made of plastic and comes in a white color.
Bridgestone e6 Golf Balls are a top choice for golfers who want maximum distance on all their shots. These balls feature a new 2-piece construction that delivers high-ball speed while maintaining a soft feel. They offer excellent feedback with irons, especially around the green. The bright white coating on these balls makes them easy to spot, and they don't scuff up as easily as other balls I've used.
While their spin around the green may not be significantly different from other balls, they perform well in the rough and fairways. Durability is not a major concern since the odds of losing the ball in the woods or water are higher than the lifespan of the ball. That's why they're highly recommended for beginner golfers looking for high-quality balls.
3. TaylorMade Distance+ Golf Balls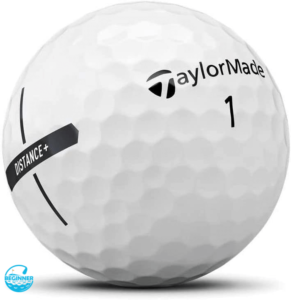 Material: Plastic Color: White
TaylorMade Distance+ Golf Balls give you a great distance as compared to several other golf balls. But, it is not a soft-feeling ball on well-struck shots. It also has less green side spin than urethane premium balls which can be a plus if you spin the ball too much on approaches or a negative if you want more chipping and pitching greenside stopping power.
These golf balls are beginner friendly. Ball has good compression for new golfers. They went further into the woods or deeper into the lakes and ponds.
4. Nike Mix Golf Balls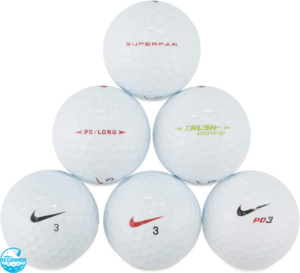 These golf balls are white in color.
Nike Mix Golf Balls set has 24 balls and is a terrific choice for those of you who wish to experiment with various golf balls. For individuals who are sick of losing their balls, these balls work well and are reasonably priced. They are well-made and in good condition. Since they cost less than $1 each, it doesn't matter that many of them had logos. It also makes finding your ball simple.
5. GoSports Foam Golf Practice Balls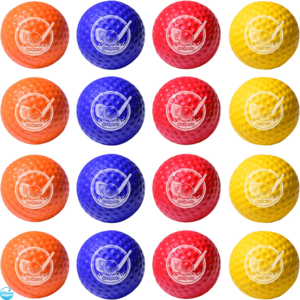 These golf balls are available in a variety of colors and are made up of foam.
With the help of GoSports Foam Golf Practice Balls, you can create your own at-home driving range. You can practice with this outside or at home if you're a beginner. They will therefore be very helpful to you as you learn golf. Additionally, they have a limit on how far they can drive. These come highly recommended for those just starting to learn golf. They'll provide you with a precise flight path so you can fine-tune your swing. The best foam balls by far are these. Accuracy is important, and if you have the room, you can reach them far.
These are great balls that you can take a full swing at. We use them with the Go Sports net. We had hoped that these balls' flight distance would be a little shorter. The ball still travels half an acre even after hitting a pitching wedge hard. As a result, they provide a wide range. If you are looking for low-distance golf balls, these are not for you. These are generally quite good.
6. Taylor Made TP5 Golf Balls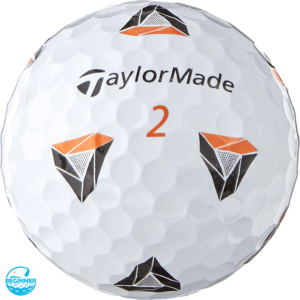 This golf ball is made up of the substance plastic and has a pix color.
Taylor Made TP5 Golf Balls are high-end golf balls that offer exceptional performance in terms of distance, spin, and trajectory. They are superior to the Pro V1x and are considered the best golf balls for low handicappers. These golf balls are perfect for those who prefer balls with excellent workability and spin. They have a higher ball flight and a great feel that is very consistent from ball to ball.
These golf balls can provide an extra 5-7 yards of distance on wedges through middle irons, around 10 yards further on long irons and hybrids, and up to 10-15 yards further on fairway woods and driver. Overall, these are top-quality golf balls that are known for their consistency and performance.
7. Titleist TruFeel Golf Balls
This golf ball comes in the color white and is made by Titleist.
Titleist TruFeel Golf Balls are an ideal choice for golfers who prefer a softer feel but still want excellent performance and distance. These balls provide a satisfying sensation upon impact and don't feel hard like hitting a rock. They're suitable for all skill levels and offer great distance, reaching up to 330 yards off the tee box during trials.
In addition, these balls have a soft feel around the greens, making them perfect for slower swing-speed golfers. Their price is also reasonable for beginners, making them a good option to try out.
8. Piper Golf Premium Golf Balls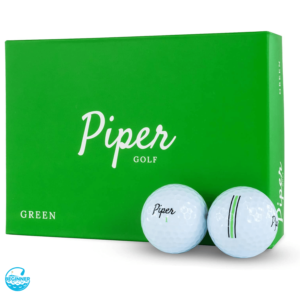 The golf balls have a Piper Green color and are made of Surlyn material.
Piper Golf Premium Golf Balls are a great choice for those who are new to the sport, seniors, women or have high handicaps. They offer impressive distance and accuracy and provide a great feel when playing around the greens. These balls are especially ideal for golfers with a handicap of 15 or higher. If you're looking for more distance when teeing off, then these balls are definitely worth trying out. They can even be seen as a comparable alternative to Callaway Supersoft golf balls.
9. Wilson Staff F.L.I. Golf Balls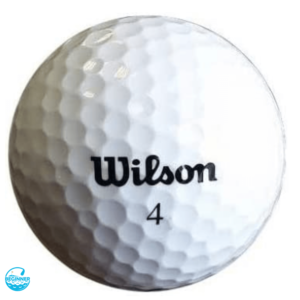 The golf ball's color is white and it is made of ionomer material.
Wilson Staff F.L.I. Golf Balls come in a pack of 12 and are a great option for beginners as they provide good value for money. Although it's hard to judge the quality for advanced players, having a few extra balls is always helpful, especially at a lower price than buying from a pro shop. These golf balls have a high-powered core, making them travel a long distance while maintaining good quality and durability. They are particularly efficient around the green and can withstand wear and tear. So, if you are a beginner, these balls are worth considering.
10. Rocketballz Speed Golf Balls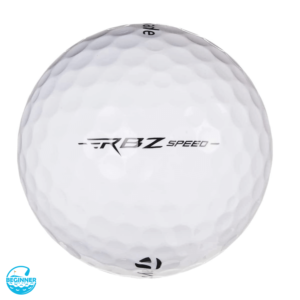 The golf ball is white and made of plastic.
Rocketballz Speed Golf Balls are a great option for golfers on a budget, priced under $20. Unlike other budget balls, these balls have an outer shell that doesn't feel too hard or have a pingy sensation. Although they may not travel as far as premium balls, they are still good-distance balls and suitable for golfers with a lower swing speed. However, they are not recommended for low handicappers. These balls are especially beneficial for beginner golfers, as they offer great speed and can provide more distance as you improve your swing. Give them a try if they seem like a good fit for you.
11. Nitro Golf Crossfire Golf Balls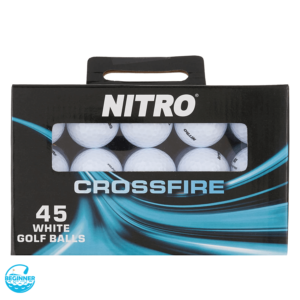 The golf ball comes in the color white.
Nitro Golf Crossfire 45 Ball Pack Golf Balls are the perfect choice for weekenders or beginners who want a quality ball at an affordable price. They are the best bang for your buck if you're just starting to play golf, as you won't feel guilty about losing them due to their low cost. These golf balls offer impressive distance, especially when hit correctly, and can help you improve your game. So why not give them a try and see for yourself how they can enhance your golf experience?
12. Srixon Soft Feel Lady Golf Balls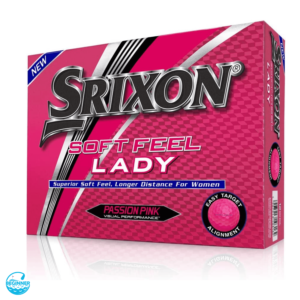 This golf ball is made of ionomer and comes in a pink color.
Finally, we have the Srixon Ladies Soft Feel Golf Balls, which are an excellent option for beginners, particularly for women looking to enhance their golf skills. These balls offer a light and soft feel, but may not be ideal for use around the greens. They can add some serious distance to your drives and are quite easy to locate in rough terrain. You'll definitely enjoy the feel of these balls, as they promote a good swing speed. And if you're a fan of spinning golf balls, then give these a try!
How To Choose The Golf Ball Right For You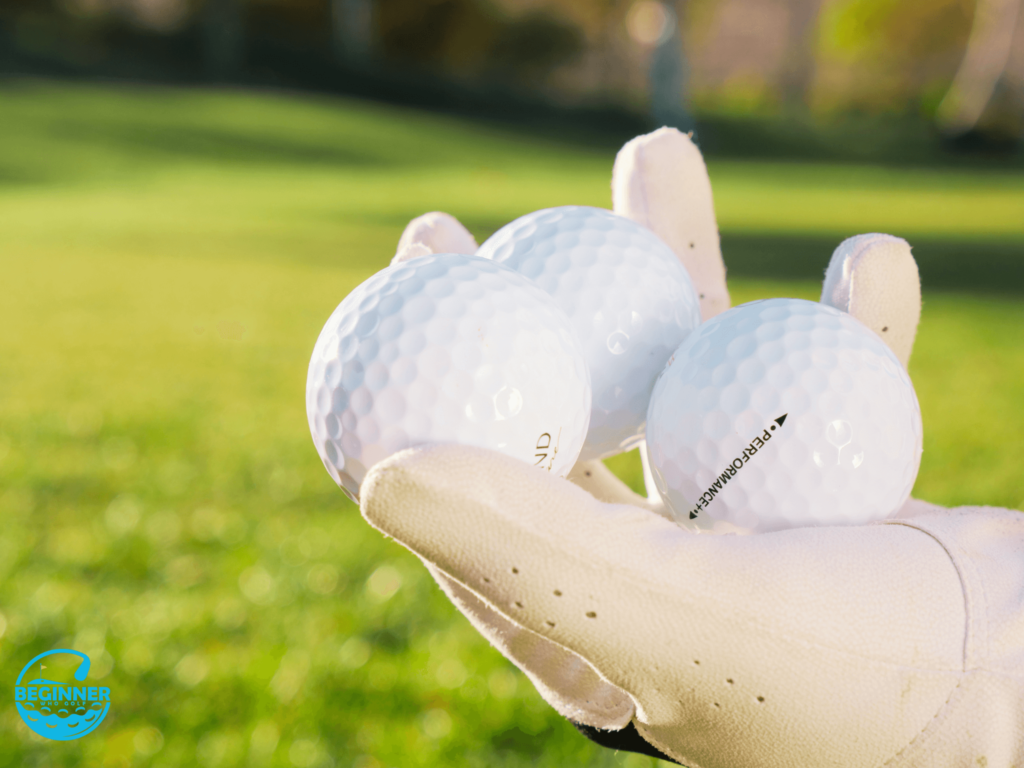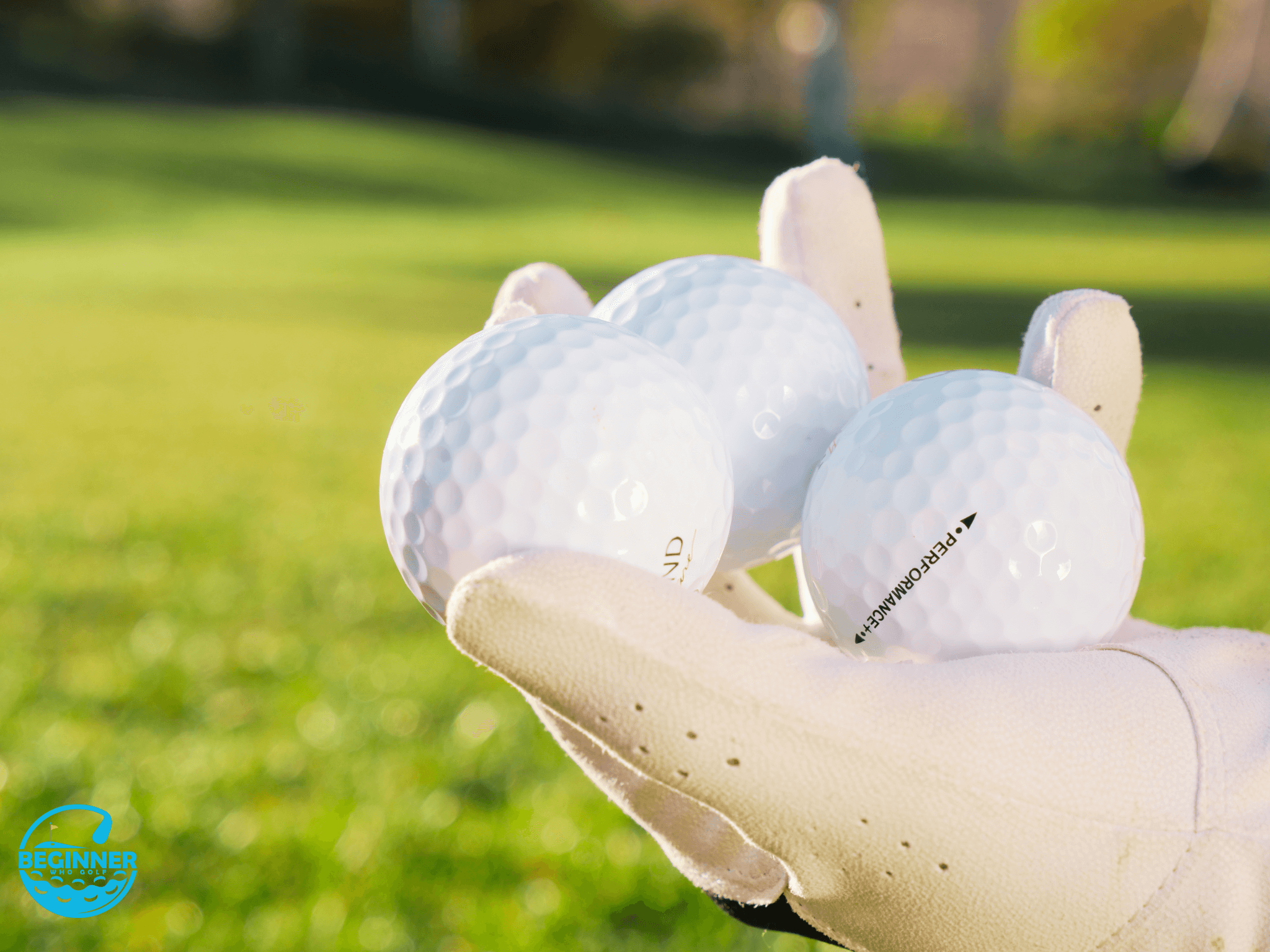 Choosing the right golf ball while thousand of golf balls are on the market today is quite difficult for beginners. Picking a particular brand and a particular type of golf ball is not easy for newcomers. As a basic rule, the weight must be 45.93g or less, the diameter must be 42.67mm or more, and the speed must not exceed the specified speed under certain conditions. You can learn about different kinds of golf balls on the internet. It will help you in choosing the golf that suits you. Take a look at these and keep them in mind when choosing a golf ball. Here, we've mentioned some important factors you must keep in mind while buying a golf ball for you.
Color
Golf balls come in a variety of colors, including traditional white as well as yellow, pink, green, and orange. Colored balls can aid in tracking the shot's path, making it simpler to locate the ball if it veers off course. This is especially useful during cloudy days or the winter season when visibility may be reduced due to frost or leaves on the ground. Fluorescent green is particularly easy to spot among the various colors available, even in dead grass and fallen leaves. Of course, players can choose their preferred color and enjoy the game in style.
Price
Select a golf ball based on your budget. If you tend to lose golf balls frequently, we suggest purchasing an inexpensive golf ball. However, if you prioritize quality, then you can explore various premium balls.
Durability
The durability of a golf ball is the most crucial factor to consider when selecting one. Generally, cheaper golf balls have a shorter lifespan. The more durable a golf ball is, the more benefits you can derive from it. Look for golf balls that have firm covers for enhanced durability. However, if you prioritize a soft feel over durability, you can opt for those types of balls as well. Ultimately, the choice is yours.
Related: Hard v/s Soft Golf Balls For Beginners. Which One To Pick Up?
Compression Rating
The compression rating of a golf ball pertains to its ability to compress. A lower compression rating results in a greater distance covered by the ball, while a higher rating leads to less distance. It is up to you to decide between a ball that provides maximum distance or minimum distance. For beginners, we recommend using golf balls with low or moderate compression ratings, as they are not yet familiar with their swing speed.
Number Of Pieces
The greater the number of layers in a golf ball, the more advanced its features become, but the cost also increases proportionally. For novices and amateurs, a 2-piece ball should suffice. However, those seeking to improve their skills are recommended to practice with a 2-piece ball and use a 3 or 4-piece ball for games. Additionally, it's prudent to invest in a somewhat expensive ball with more layers that fit within your budget, as it may result in cost savings over time. It's crucial to strike a balance between performance and cost by taking into account the number of layers in a golf ball.
Number Of Dimples
The number of small depressions on a golf ball's exterior, known as dimples, can differ from ball to ball. A greater number of dimples can generate more lift during flight, resulting in a higher trajectory and potentially greater distance. To enhance one's distance, it's recommended to take note of the number of dimples while selecting a ball. Normally, golf balls have approximately 300-400 dimples. If your goal is to increase your flight distance, go for a distance ball that has a higher number of dimples. However, exercise caution and avoid choosing a ball with too many dimples as it may create excessive lift and reduce your distance.
Choose by golf ball type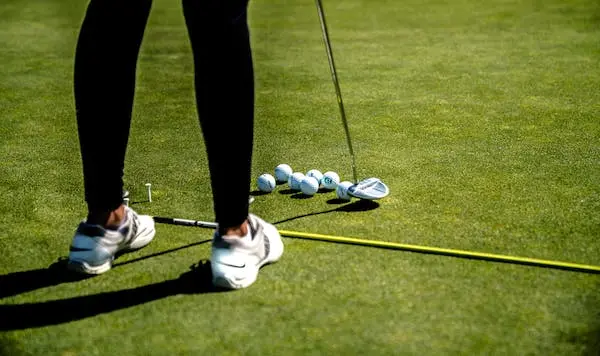 Distance golf balls that emphasize flight distance
Distance golf balls are engineered for optimal flight performance and are commonly known as "flying balls." They're especially beneficial for novice players as they facilitate longer distances on driver shots. Typically, distance golf balls have a soft center core and a firm surface cover, which boosts the rebound effect upon impact, resulting in greater distance. Additionally, these balls have a tendency to produce less spin, making them a great choice for golfers who often slice their shots.
Spin golf ball that is easy to apply spin
Spin golf balls are distinct from distance golf balls in that they have a softer surface cover and a harder core. The soft cover stays in contact with the club face for a longer time during impact, resulting in greater spin even at lower head speeds. These balls are ideal for golfers who wish to execute control and approach shots that take advantage of spin. They're particularly useful in competitions when the greens are firmer. Spin golf balls are better suited for intermediate and advanced players as they're easier to shape and spin.
Balance type 3rd golf balls
The Series 3 golf balls are designed to offer the benefits of both distance and spin balls, making them an excellent choice for players who value a well-rounded ball with exceptional repulsion and spin performance. They can help improve your game in the short term, as you can use them to stop your approach shot with iron at your intended target while still increasing your flight distance with the driver. These balls have a soft surface cover, a soft center core, and a multi-layered structure made of different materials, resulting in a well-balanced ball with a satisfying feel upon impact.
Choose A Golf Ball That Matches Your Head Speed
If you're unsure about whether to choose a distance or spin golf ball, it's suggested to opt for one that is suitable for your head speed. Each golf ball is engineered for a specific range of head speed, and selecting a ball that matches your head speed can minimize the ball's curvature and enhance your control. You can determine your head speed at a golf store or by using a simple calculation formula that involves dividing your driver's flying distance by 5.5 to 6.0. Generally, players with high head speeds (43 m/s and above) prefer spin balls as they prioritize control over distance.
RELATED: Is Pro V1 best for beginners or not?
Frequently Asked Questions (FAQs)
Closing
Selecting the best golf ball for beginner players is essential for improving their performance and enjoyment of the game. However, with so many options available, finding the right ball that fits your skill level, budget, and playing style can be challenging. Our comprehensive guide of the top 12 golf balls for beginners, including options like Bridgestone e6 and Callaway Supersoft, can help you make an informed decision. When choosing a ball, it's important to consider factors such as spin, distance, feel, and durability. By selecting the right ball, you can enhance your game and make progress towards your golfing goals. So choose wisely and enjoy your golfing experience!