I Tried Volvik Vivid Golf Balls, Here's What Happened
As fervent golf lovers, we all understand how crucial it is to find a great golf ball that suits our specific playing style with the utmost accuracy and excellence. But with numerous choices, it can be challenging to pick a ball that matches our swing technique and provides what we want in terms of distance, precision, and sensation. That's why I decided on trying out the Volvik Vivid Golf Balls, which have recently been generating a lot of buzz among golfers.
Within the context of this written piece, I shall elaborate on my personal encounter with the Volvik Vivid Golf Balls and furnish an all-encompassing evaluation of their on-course performance. My critique shall encompass a detailed analysis of their structural build, overall construction, tactile feel, spin, distance coverage, accuracy, and cost, allowing you to make an informed decision on whether these golf balls align with your gameplay preferences.
Volvik's Vivid Golf Balls are perfect for golfers with 70-100mph driver swing speeds, including women with drives over 175 yards. They offer low spin, high takeoff, and improved visibility, with a soft, durable 3-piece design and higher launch trajectory. With various colors and a reasonable price, these balls are a top choice for golfers seeking quality, affordability, and style.
Design and Construction Of Volvik Vivid Golf Balls
The Volvik vivid' vivid colors were the first thing that caught my eye. These balls stand out on the course while making it simple to find your ball in the rough. These are available in green, pink, orange, red, blue, and yellow. The balls' matte appearance adds to their unique look and feel.
Crafted with a soft, high-energy core, a high-resilience mantle layer, and a durable Zirconium Z-I outer cover, these golf balls boast a three-piece design optimized for exceptional performance. This innovative construction is engineered to deliver high ball speed, low spin, and a soft feel on impact, resulting in longer and more accurate shots on the course.
These golf balls also feature a high-energy core that swiftly compresses upon impact, resulting in a significant increase in ball speed and maximum distance. Moreover, the mantle layer works in tandem with the core to provide an additional boost to ball speed by enhancing the core's rebound capabilities. The Zirconium Z-I outer cover adds to the ball's longevity by delivering durability and resistance to scuffs and marks while preserving its soft feel upon impact. This golf ball is also within our picks for newcomer females.
Feel and Spin Of Volvik Vivid Golf Balls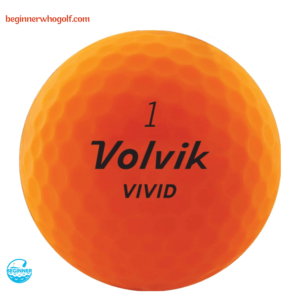 Upon hitting the Volvik Vivid, I immediately noticed a gentle and satisfying sensation at impact, which gave me valuable feedback on my swing. The ball's unique construction appeared to offer more resilience upon impact, resulting in a slightly increased ball speed compared to my usual golf balls.
I was surprised by the low spin of these golf balls, which was a pleasant surprise and allowed for more distance on my shots. However, this low spin also required me to adjust my approach shots as my typical slight draw became more pronounced. It took some time to get accustomed to this change, but it ultimately resulted in more accuracy and better control over my shots.
The performance of these golf balls on the greens was impressive. The soft feel of the ball provided excellent feedback on putts, and the low spin contributed to keeping the ball on the intended line. Furthermore, the matte finish of the ball made it easy to visualize the line and provided a suitable contrast against the green.
Distance and Accuracy of volvik vivid golf balls
The Volvik Vivid Golf Balls showed impressive performance in terms of distance, thanks to the high-energy core and low spin. During my trial, I observed a notable increase in the distance of my drives. However, on approach shots, I had to make some adjustments, as I already mentioned, to account for the ball's tendency to draw. After some practice, I was able to hit my targets with more consistency. Overall, the ball's construction proved to be beneficial for distance and accuracy.
These golf balls performed inconsistently in terms of accuracy. The balls flew straight and true on full shots, but on shorter shots, I found it difficult to regulate the distance. Some shots came up short or long because it was a little harder to figure out the amount of spin and distance because of the soft feel of the ball.
Price of volvik vivid golf balls
The cost of these golf balls is comparable to that of other high-end golf balls on the market. Although this price is higher than some other options, I think the Volvik Vivid Golf Balls' performance justifies the price.
These golf balls do wear out a bit more quickly than some other high-end golf balls I've played, it should be noted. The ball's soft feel and high ball speed make up for this, though, as predicted with the softer cover structure.
Overall Impression Of volvik vivid golf balls
After playing multiple rounds with these balls, I have conflicting thoughts about them. On one hand, I appreciate the ball's eye-catching design, pleasant feel, and improved distance off the tee. On the other hand, the ball's low spin and tendency to draw took some getting used to and impacted my accuracy on shorter shots.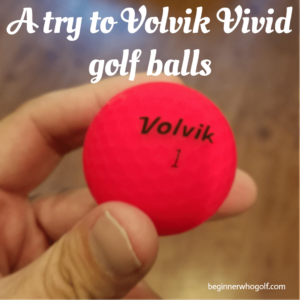 Despite these drawbacks, I still believe that the Volvik Vivid Balls is a high-quality option for golfers who prioritize distance and a soft feel on impact. The ball's three-piece construction is specially engineered to maximize ball speed, with the high-energy core and high-resilience mantle layer contributing to its increased distance potential. Additionally, the Zirconium Z-I outer cover provides the ball with excellent durability, and the matte finish adds to its unique look and feel.
However, if you're a golfer who struggles with accuracy on shorter shots or prefers a ball with a higher spin rate, then the Volvik Vivid Golf Balls may not be the best choice for you. Nonetheless, if you're searching for a distinct ball that delivers excellent performance off the tee and a soft feel on impact, then these golf balls are certainly worth giving a shot.
Final Thoughts
The Volvik Vivid Golf Balls provide a distinctive choice for players aiming to maximize distance and ball speed. Finding the correct golf ball may make or break your game. They are attractive due to their vivid colors and matte finish, and golfers who value the softness of feel and low spin will find them to be a terrific choice.
That being said, the Volvik Vivid Golf Balls may not be the best fit for all golfers, particularly those who struggle with accuracy on shorter shots. If you're interested in trying the Volvik Vivid Golf Balls, I recommend testing them out on the course to see how they perform for your game. Ultimately, the right golf ball is a personal choice, and it may take some trial and error to find the perfect fit.