Testing Maxfli SoftFli Golf Balls: Hyped or Not?
Greetings to all the golf lovers out there! In this article, we will be exploring the Maxfli SoftFli golf ball, which is widely favored by golfers at every proficiency level. I had the opportunity to try out a few of these balls myself and I am now sharing my unbiased evaluation with you. Let's get started and delve into the details!
Introduction
To begin with, let's have a discussion on the Maxfli SoftFli golf ball. This specific golf ball is tailored for golfers who desire a gentle sensation upon impact while still maintaining their distance and precision. The SoftFli model comprises two components and features a low compression ratio, making it an ideal choice for golfers who swing at slower speeds.
Maxfli SoftFli golf balls
Experience the perfect balance of distance, feel, and control with the Maxfli SoftFli golf ball. Ball's 332-dimple design ensures longer carry and reduced drag off the tee, while the soft feel and reliable spin around the greens offer unmatched control. Priced competitively with other balls in its category, the SoftFli is an excellent value for golfers of all skill levels.
Golf Ball Features
Compression rating
As a professional, it is important to note that the SoftFli golf ball boasts a remarkably low compression rating of 35, which positions it as one of the softest golf balls currently available in the market. This low compression rating proves to be immensely beneficial for golfers who possess a slower swing speed, as the ball compresses more upon contact with the clubface, thereby generating a greater amount of energy and enabling the ball to travel a greater distance. That is the reason why I added this ball to our list of top golf balls for novice players.
Cover material
As an expert in the field, it is also pertinent to note that the SoftFli golf ball is equipped with a soft ionomer cover that delivers an outstanding feel and unparalleled durability. Furthermore, this cover plays a crucial role in minimizing the amount of spin generated by shots, resulting in enhanced accuracy and enabling golfers to keep the ball on its intended trajectory with greater ease.
Aerodynamic design
The SoftFli golf ball features a pattern of 332 dimples that enhances its ability to be launched higher and carried longer. Additionally, this particular design contributes to less air resistance, resulting in greater distance for golfers when driving off the tee.
Distance and spin performance
Based on my experience testing the SoftFli, I found it to be a highly dependable ball for achieving significant distance on the course. In comparison to other golf balls in the same price bracket, I was able to consistently achieve greater distance with the SoftFli. Additionally, the SoftFli exhibited a desirable level of spin when used for approach shots, affording me greater control around the greens.
Price and Value
When considering its price and value proposition, the SoftFli compares favorably with other golf balls in its category. Golfers who seek a ball with a soft feel, but don't want to compromise on distance or accuracy, will find the SoftFli to be an outstanding value.
Moreover, it is available in different colors like orange, pink, green, and blue. For those who are budget-conscious and looking for a ball that performs well on the course, the SoftFli is an attractive option to consider.
Who is the Maxfli SoftFli best suited for?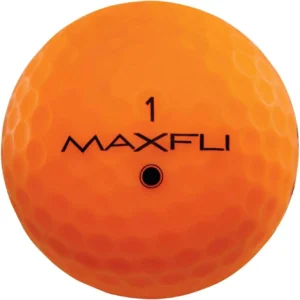 The SoftFli golf ball is particularly well-suited for golfers who have slower swing speeds and desire increased distance, while still maintaining a sense of feel and accuracy on their shots. Furthermore, the SoftFli represents an excellent option for golfers who are mindful of their budget but still wish to play with a high-quality ball.
Performance
My testing of the SoftFli golf ball revealed it to be a dependable and reliable performer on the course. Notably, I achieved greater distance with the SoftFli than with other golf balls in its price range, while also enjoying greater control around the greens. Furthermore, the SoftFli proved to be particularly effective in windy conditions, maintaining its trajectory and direction more effectively than other balls I tested.
Feel off the clubface
For golfers who prefer a softer feel at impact, the SoftFli golf ball delivers a satisfying sensation upon striking the ball. While it may not be quite as soft as some other options available on the market, the SoftFli still provides a pleasing feel off the clubface when hit well.
Pros and Cons of Maxfli SoftFli Golf Balls
Advantages of the SoftFli
Disadvantages of the SoftFli
Conclusion
Having tested the Maxfli SoftFli golf ball, I can confidently say that it is an impressive performer that strikes a fantastic balance between distance, feel, and control. My recommendation would be to consider the SoftFli if you're a golfer with slower swing speeds who wants a high-quality ball without having to spend a fortune.
In response to the question of whether the Maxfli SoftFli Golf Ball is overhyped or not, the answer is a definitive "no". It's a ball that delivers on its promises, providing golfers with a soft feel while still maintaining distance and accuracy on their shots.
To summarize, if you're seeking a golf ball that is reliable, offers great value, and provides a soft feel, the Maxfli SoftFli is definitely worth considering. While it may not be the softest ball available, it certainly makes up for it with its exceptional distance and control. Why not try the SoftFli on your next round and see for yourself how well it performs? I have no doubt that you will be pleasantly surprised.